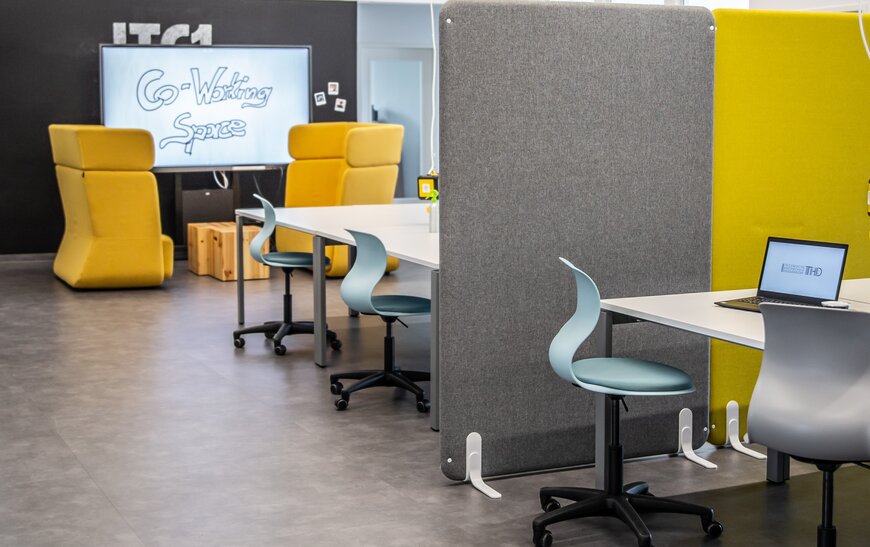 Free workplace
Information event on the co-working space
9.9.2021 | DIT Public Relations
Unpack your laptop and get started - working can be that easy. The Deggendorf Institute of Technology (DIT) provides five co-working spaces in the premises at ITC1, which can be rented free of charge. On 22 September at 4pm, the university will be offering a virtual information event on the subject.
"Our co-working space is open to all interested parties, regardless of whether they are employees, freelancers, founders or entrepreneurs," affirms Lisa Geib, Digitalisation Officer at DIT. Potential users do not have to have a connection to the university. Geib is sure that this offer will go down particularly well with home office users, commuters and all creative minds who want to benefit from on-site collaboration. The highlight: the rooms can be rented free of charge until the end of 2022 as part of the DIT project "Digitalisation in Dialogue".
"The first day is extremely easy," Geib knows, "pack up your laptop and get started on site." The space concept at ITC1 offers everything needed for creative work in a community: five well-equipped workstations, meeting and rest areas, flexibility and plenty of space for collaboration. Meeting rooms with video conferencing technology as well as telephone boxes are available. DIT co-workers also benefit from the direct connection to the Gründerzentrum für Digitalisierung Niederbayern (GZDN). There is still free capacity to get started at short notice. Anyone who would like to learn more about the DIT Co-Working Space is cordially invited to the virtual information event on 22 September at 4 pm. Registration for the event and further information on the topic at coworking@th-deg.de and at www.th-deg.de/en/business/coworking.
With the project "Digitalisation in Dialogue", DIT promotes the exchange between higher education institutions and business in relation to the topic of "digitalisation". The focus is on learning from each other, identifying market needs and future trends.
Bild (DIT): State-of-the-art working atmosphere in the new co-working space at ITC1 in Deggendorf