Larisa Brietsche
2020 | Applied Computer Science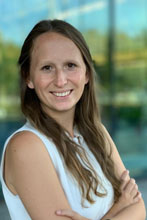 Career Development
After graduating from high school in 2014, I started studying media technology with a focus on computer science at DIT. This gave me a broad knowledge of different media and technical background. Especially the computer science courses were fun. Thus, I decided to specialise in this direction in the Master's programme.
From 2018 to 2020, I completed the Master's in Applied Computer Science / Infotronics. This is structured in English and is a good mix of programming and engineering topics. It also includes freely selectable modules from the Master's programmes in Electrical Engineering and Media Technology. Meanwhile, I took the opportunity to spend a semester abroad in Finland.
Immediately after my Master's thesis, which I wrote at BMW in Landshut, I started as an IT trainee at Allianz AG (insurance industry) in Munich. Here I was able to try out different roles (e.g. project manager office, deputy manager or project manager) and get to know the insurance world.
Since April 2022, I have been an IT project manager in the Workplace Team at Allianz Technology. In addition, I now have the chance to accompany our team into agilisation as a product owner.
Reminiscing allowed: remember your student days
I have fond memories of my 6 years in Deggendorf. I like both the city and DIT itself very much. There is a family-like environment from which you can take many friendships with you for life. How often did we sit by the Danube and enjoy the sun?
In addition, you can really savour the student life at night. The beer toss at Spontan with the most delicious fries was always legendary.
But the university also has a lot to offer: I like to think back to the sports programme and the MovING programme for female students.
I still feel very connected to the university through the AlumniNet network and like to visit DIT again for one or two seminars.
What advice would you give to today's students?
Enjoy your time as a student, because it goes by far too quickly. Don't put off too many exams, try things out and take as much as you can with you for your life. But don't lose sight of your goal.
For the inquisitive, I can give the tip: Take voluntary AWP language courses and career service seminars. I personally found Business Etiquette the best, but it was always booked up quickly. You can also find some seminars on soft skills here.
If you have the chance to spend a semester abroad, take it. Such experiences are worth their weight in gold.