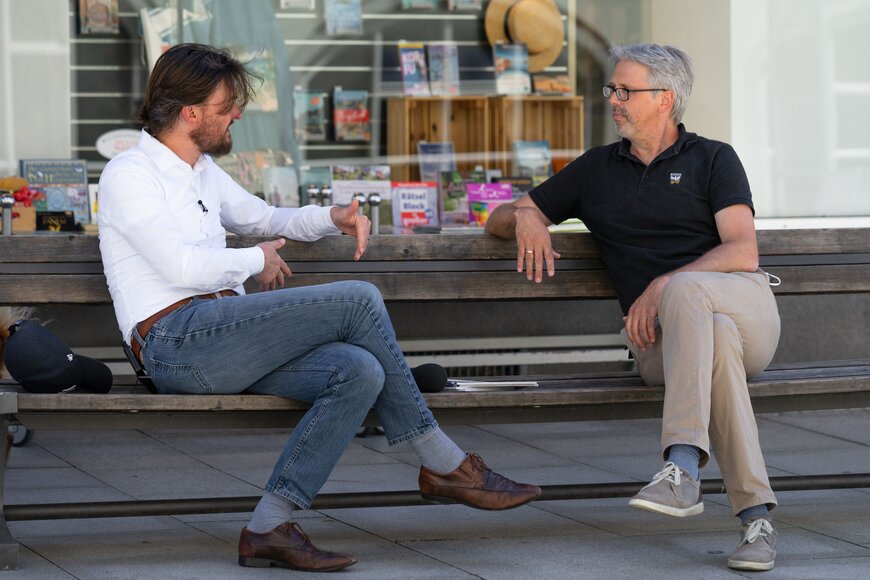 Science Bench on 17 September
Talking to Each Other: Telemedicine – and the General Practitioner is always around
13.9.2021 | DIT Public Relations
On several occasions, the Deggendorf Institute of Technology (DIT) has already brought scientists into conversation with citizens. Very simple, eye to eye. On a comfortable bench in front of the town hall. On the upcoming Friday, 17 September, it is time again. This time Anna Schmaus-Klughammer, research assistant and expert for telemedicine and global health at the DIT, will take a seat on the bench for chatting with people.
"Telemedicine – is it really necessary?", one might ask. After all, what do you have a general practitioner for? "Yes, and yes", Schmaus-Klughammer says. "Our health care is not only governed by personal and local factors, but also by national and even international ones." Currently, the Corona pandemic makes this very clear to us. Especially patients with chronic diseases, e. g. rheumatism, had to face great challenges during the pandemic with all its dangers and social restrictions. They continuously have to check their health status, medication as well and its effect. "In fact, due to the pandemic, many more patients have actually used video consultation hours for their check-ups", Schmaus-Klughammer reports. But other tele-health assistants such as apps or so-called wearables, which help patients check their current status regularly, are also said to be on the rise. "Health care", according to Schmaus-Klughammer, is becoming increasingly digital. However, this does not mean that the virtual tools will replace general practitioners or specialists. On the contrary. It is about a reasonable and helpful extension of the patient service.
In fact, the DIT scientist even goes a great step further regarding this topic: "Of course, telemedicine not only simplifies health care for citizens in Deggendorf or Germany, but also worldwide." Covid-19, for example, raises the question of how digitalisation in health care can ensure equity for all in the global distribution of vaccines. The security of our own society also depends on it. After all, it is a small wheel in a more or less entirely globalised system. For example, 90 percent of all industrial and consumer goods are transported from A to B via sea freight. Therefore, they are on the move worldwide. And Schmaus-Klughammer names another aspect which is far more direct for many citizens: "Many people long for being able to travel carefree to distant countries again. In turn, tourism is oftentimes the most important source of income in these countries." Very frequently, the term 'globalisation' is used in a negative context, "but in the end, most of us will have to admit that they are quite globalised themselves", says the DIT scientist. Those who engage in a conversation with Mrs. Schmaus-Klughammer on the Science Bench next Friday will learn how global digital health care is already being successfully practised today, using the examples of the ADAC and telemedicine. "These days, the topic of health requires much more far-sightedness. From the responsible institutions and also, undoubtedly, from individuals themselves", says Schmaus-Klughammer. She is already looking forward to the Science Bench on 17 September. "I would like to meet as many citizens as possible, exchange views with them and answer their questions." She is happy to share her knowledge, but she is also keen to learn more about people's viewpoints on the street. And it is precisely this exchange, the friendly and open conversation on eye level, that is the aim of the DIT Science Bench.
Bild (DIT): At the Science Bench, DIT scientists chat with interested people about various future topics – most recently last July.