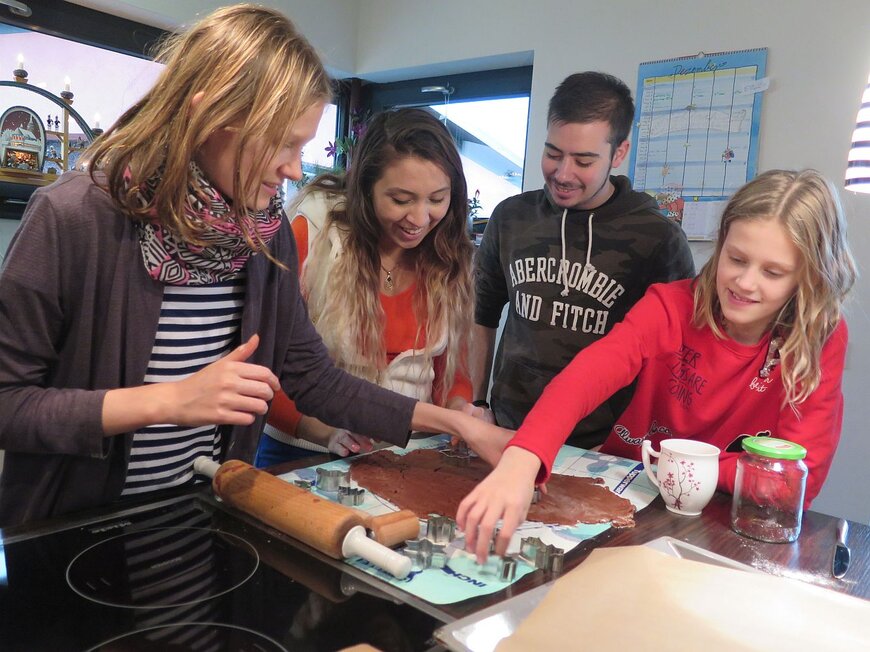 ECRI Host Family Programme starts again
Cultural exchange between students and locals with the Host Family Programme
6.10.2021 | DIT Public Relations
At the start of the winter semester, the Host Family Programme of the European Campus Rottal-Inn (ECRI) enters the next round. The programme brings locals and students together to promote cultural exchange. Students and host families arrange to meet as often as they like within the framework of the programme for joint excursions, coffee and cake, games evenings or similar. Interested students can register now.
The Host Family Programme enables international students to make contacts outside the campus and to get to know the Bavarian culture and way of life better. Andrea Ebertseder from the Centre for International Affairs at the Deggendorf Institute of Technology (DIT) establishes contact between students and host families. Previous experiences, such as that of Hashem Alshawabkeh, show that the programme is a complete success for both sides. He is an international student at ECRI and took part in the Host Family Programme last semester. The programme exceeded all his expectations and made the last few months as exciting and enjoyable as possible, he says. Through his host family, he not only learned about important cultural differences between Bavaria and his home country, but also visited some of the highlights of the region, such as the Whitsun race at the harness racing track or the jazz festival in Burghausen.
But not only the international students benefit from the exchange. The programme also offers many advantages to the host families. All the students speak English, but many can also speak German very well. This offers the perfect opportunity to speak English casually and thus deepen their vocabulary. In addition, they get to know the respective country of the students, its inhabitants and their culture. Last but not least, friendships are made and togetherness is enriched.
Further information and the application form for the Host Family Programme can be found at www.th-deg.de/hostfamily. If you have any questions, please contact Andrea Ebertseder (andrea.ebertseder@th-deg.de) from the Centre for International Affairs at DIT/ECRI by email.
The Host Family Programme is a non-profit organisation at DIT that is dedicated to the integration of foreign students. At ECRI in Pfarrkirchen, the programme started for the first time in the winter semester 2019/20 with six host families and ten students.
Bild (ECRI / DIT): Baking gingerbread together is even more fun: international students with their host family.