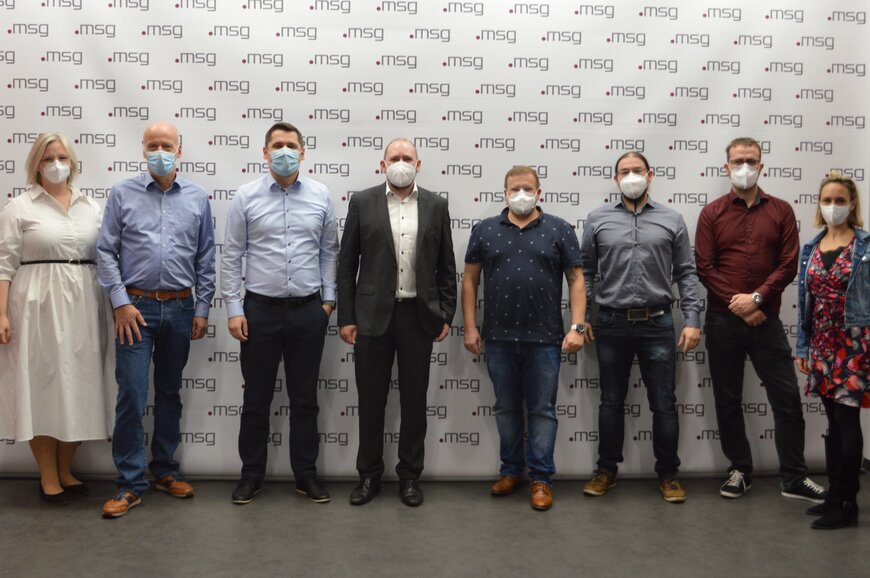 Exploratory talks at TC Vilshofen
Network for data security
7.10.2021 | DIT Public Relations
Just under a year before the actual opening, the Technology Campus (TC) Vilshofen is picking up speed. On 21 September, a meeting with msg services ag took place in Passau. As an IT service and IT consulting company, msg services ag is active in a variety of areas. In particular, the topic of security was examined more closely. The first common points of contact were found. Further exploratory talks are already planned for the near future.
"In addition to cooperation within the framework of publicly funded research and development projects, we can also imagine practical training scenarios being developed at TC Vilshofen with the help of msg services ag," says Stefan Anthuber, Operational Manager at TC Vilshofen. In addition, added value for teaching at the university is also conceivable, explains the Scientific Director of TC Vilshofen, Prof. Dr. Martin Schramm: "The Bachelor's degree course in Cyber Security, but also in other IT degree courses, could be enriched by insights into practice on the part of msg services ag."
Cooperation with industrial partners and the associated transfer of knowledge and technology to industry - but also vice versa - is a core task of the Technology Campuses at the Deggendorf Institute of Technology (DIT). This also applies to the new TC Vilshofen, which is expected to officially launch in September 2022 with the topic of cyber security. The necessary networks are already being set up for this. The TC Vilshofen can also draw on contacts from the ProtectIT Institute at the DIT. In particular, small and medium-sized enterprises in the region are to benefit from the Technology Campus.
Data security is an absolute success factor of digitalisation. Without cyber security, not even a private laptop can be operated today. And certainly not Industry 4.0, autonomous driving or telemedicine. This is proven by the thousands of digital attacks on companies, public institutions and private individuals that happen every day. The goals of the research and project work at TC Vilshofen are to harden systems against attacks, to find anomalies and attacks in network traffic, and to develop the necessary response measures to IT security incidents.
Bild (DIT): (from left) Dr Anne Krämer (Academic Relations Manager, msg systems ag), Dietmar Weyerhorst (Lead IT Security Consultant, msg services ag), Patrick Veith (Head of Department, msg services ag) and Thomas Soens (Division Manager, msg services ag). To the right, Christian Schopf (Overall Operational Manager of the DIT Technology Campuses), Prof. Dr. Martin Schramm and Stefan Anthuber (Scientific and Operational Manager of TC Vilshofen, respectively) and Dr. Heike Diller, Senior Project Manager at msg systems ag.