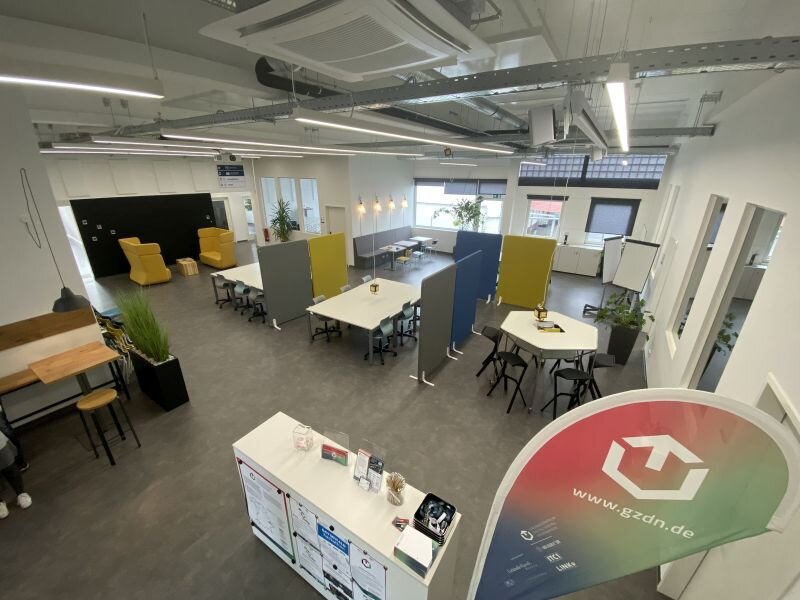 Co-working space in Deggendorf
Co-working space in Deggendorf: A smart temporary workplace?
1.4.2021 | THD-Pressestelle
The workplace in the company vs. home office is currently a hot topic. "A co-working space has the potential to combine the best of both worlds," says Lisa Geib, Digitalisation Officer at DIT. Co-working is an integrated and flexible working model in which start-ups, freelancers and other employees rent a flexible workspace in an open-plan office. The focus of co-working spaces is on networking and the exchange of innovative ideas. The advantages are as varies as the concept. For commuters from rural areas, co-working offers working close to home in a modern working environment. This work concept can be particularly interesting for working parents. In times of the pandemic, the needs of employees and, at the same time, of companies have changed rapidly: Home offices, purely virtual meetings plus childcare and home schooling are taking their toll. DIT is leading the way by offering five free, project-funded co-working spaces at ITC1.
The virtual DigiCamp shows the possibilities of a co-working space. Several short lectures are planned. The main topics are the opportunities especially for rural areas, co-working experiences from practice and the presentation of the new co-working spaces at ITC1. The programme will be founded off by a joint discussion and an exchange of experiences on how co-working can succeed despite the Corona pandemic. Information on the "DigiCamp Co-Working Space" can be found on the DIT website at https://th-deg.de/en/business/digitalisation-in-dialogue . Participation is free of charge, access data will be sent after registration at coworking@th-deg.de.
Bild (DIT): Co-working can create new opportunities for rural regions and is the topic at the next DigiCamp – the Deggendorf Institute of Technologys's event series on digitalisation.