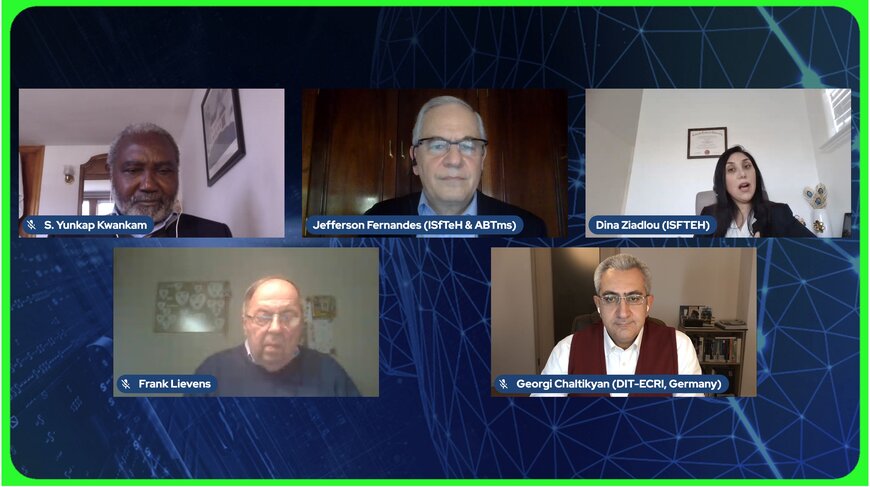 Prof. Chaltikyan Speaks on Digital Health Education at International Events
Prof. Dr. Georgi Chaltikyan Speaks on Digital Health Education at International Events
2.12.2021 | DIT Public Relations
Prof. Dr. Georgi Chaltikyan, Programme Director Master of Digital Health at the European Campus Rottal-Inn (ECRI), was invited as a keynote speaker and panelist to two international Digital Health congresses organized by Brazil's vibrant and dynamic Digital Health community. He spoke at the Global Summit on Telemedicine and Digital Health as well as the Brazilian Congress of Telemedicine and eHealth, both taking place in November 2021.
The first event was a pre-meeting webinar on Digital Health Education, a part of the event series titled Global Summit on Telemedicine and Digital Health. In his keynote, Prof. Chaltikyan spoke on the history and evolution of telemedicine and telehealth into eHealth and Health IT, and eventually into Digital Health (with important differences between the concepts and definitions), provided insights into the changing paradigm of Health IT and medical/health informatics education, discussed the novel approach to fostering interdisciplinary specialists capable of driving the Digital Transformation of Healthcare, and presented the experience with Master of Digital Health at DIT-ECRI. The Global Summit 2021 convened on November 9-12 in São Paulo, attracted 2 thousand virtual participants from around the world, provided 100 hours of content in 95 sessions during 4 days, presented by 200 speakers from 24 countries
At the Brazilian Congress of Telemedicine and eHealth, Prof. Chaltikyan was invited to a panel discussion titled "Professional Education Transforming Telemedicine and Digital Health". The discussion featured also Prof. S. Yunkap Kwankam, the Executive Director of the International Society for Telemedicine and eHealth (ISfTeH), Mr. Frank Lievens, the Executive Secretary of ISfTeH, and Ms. Dina Ziadlou, Chair of ISfTeH Working Group on Digital Transformation and was moderated by Prof. Jefferson Fernandes, Head of Education Program and Board Member at the ISfTeH. The panelists presented their vision and opinions about streamlining Digital Health education internationally and globally, and engaged in a lively discussion addressing the challenges and opportunities of providing professional workforce for Digital Transformation.
In both the keynote and the panel, the ongoing work on the Consortium of Educational Institutions in Digital Health (CONEDIG), an initiative under the auspices of the ISfTeH of which DIT-ECRI is one of the founding members, was also presented and discussed.
Deggendorf Institute of Technology's ECRI is an academic institutional member of the ISfTeH since 2018.
Bild (ECRI/THD): Prof. Dr. Georgi Chaltikyan during the panel discussion at the Brazilian Congress of Telemedicine and eHealth