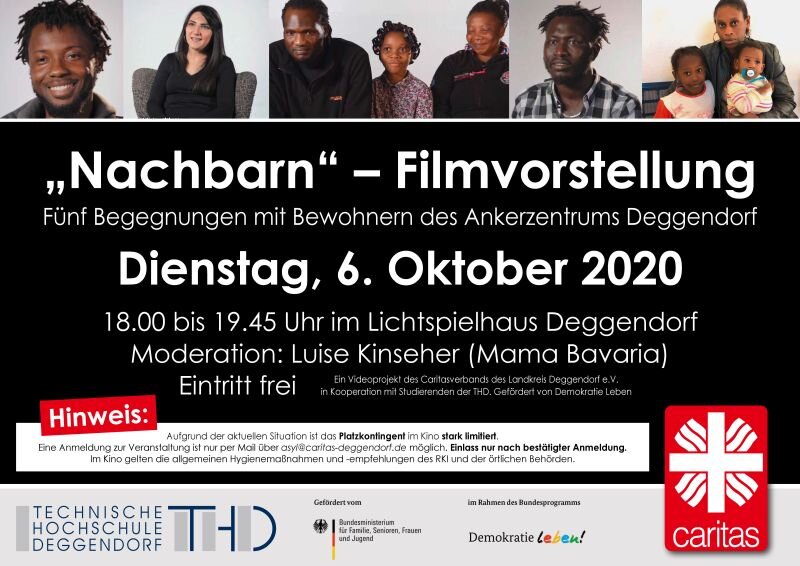 Film screening Neighbours
"Neighbours" – film presentation and follow-up discussion with Luise Kinseher
5.10.2020 | THD-Pressestelle
The award-winning film production "Neighbours" by students of the Deggendorf Institute of Technology (DIT) will be shown on 6 October at the Deggendorf Cinema. The occasion is the "Week of Encounters" (Woche der Begegnungen) in Deggendorf. The date will be accompanied by the cabaret artist and actress Luise Kinseher.
The five video portraits of residents of the Deggendorf Anchor Centre show that every refugee has their own story and that generalised prejudices do not do justice to people. The videos were produced in cooperation between the Caritas asylum social counselling service and students of DIT in the "short film" course of the master's course in Media Technology. The screening at the Lichtspielhaus Deggendorf is presented by Luise Kinseher. After the film screening there will be an audience discussion moderated by Luise Kinseher, in which the following people will participate:
Fatou Lo (Senegal, protagonist)
Christina Klee (BA, DIT student media technology)
Moritz Ströer-Karuga (MA, DIT student media technology)
Andreas Zilker (Caritas asylum counselling)
Hans Jürgen Weißenborn (Managing Director Caritasverband für den Landkreis Deggendorf e.V.)
Jens Schanze (Prof. Film & Video Design)
The performance on Tuesday 6 October will start at 6 pm. The entrance is free. Registration via e-mail at asyl@caritas-deggendorf.de is required.
Bild (Caritasverband für den Landkreis Deggendorf e.V.): Flyer announcing the screening of the film "Neighbours".