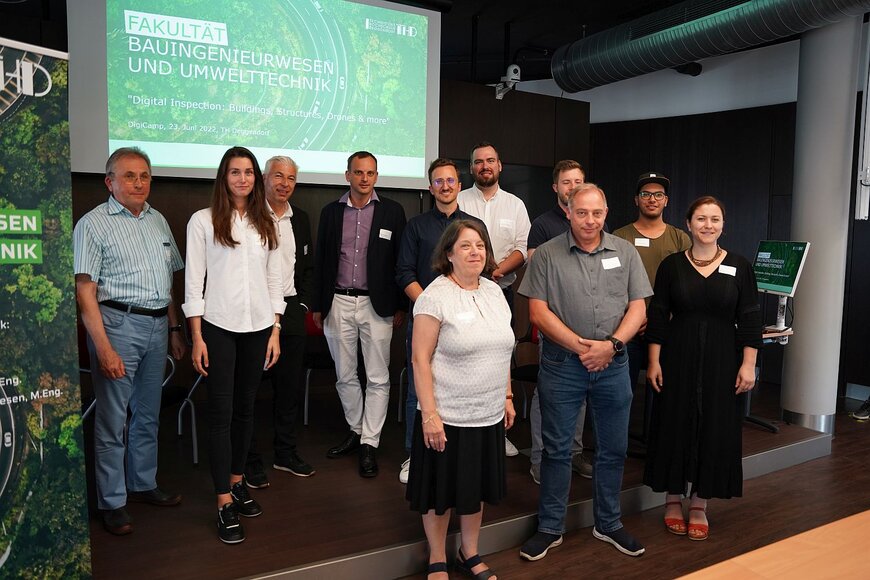 Successful DigiCamp Digital Building Inspection with the Help of Modern Technologies
Successful DigiCamp Digital Building Inspection with the Help of Modern Technologies
4.8.2022 | DIT Public Relations
An event was recently held at the Deggendorf Institute of Technology (DIT) campus for company representatives and researchers to learn about advances in drone and software technology in the field of digital inspection of buildings and infrastructures. With over 120 participants and positive feedback throughout, the event was a great success.
Under the title "Digital Inspection: Buildings, Structures, Drones & more", the modern and complex topic of "digital inspection in construction" was extensively examined from several sides. After a welcome by the university management, represented by Prof. Dr. Horst Kunhardt, experts from STRUCINSPECT (a subsidiary of the world market leader and manufacturer of innovative cranes PALFINGER) reported on the possibilities of digital building inspection in the context of building data modelling, or BIM for short, drones and software. With the help of a practical example of a motorway subway, the speakers impressively demonstrated how digital inspection can be carried out in practice today.
Afterwards, Louisa Harmann, Customer Success Expert of the Munich-based company Fairfleet GmbH, spoke about challenges and solutions of buildings and roof inspection from the air and presented many practical examples and applications of drone technology.
This was followed by a panel discussion in which, in addition to the speakers from the two keynote presentations, the founders of the Deggendorf-based start-up "Squadron", which was founded by DIT students at the European Campus Rottal-Inn (ECRI) in Pfarrkirchen, also had their say. Everyone agreed that technological progress can make the processes of recording, documenting and eliminating defects many times faster and easier. Finally, there was an opportunity for informal exchange for guests and speakers present.
The number of 120 participants at the event shows the great interest of the industry in the topic. The initiative for the event came from Hubert Girschitzka, Business Development Partner of STRUCINSPECT in Bavaria and Pfarrkirchen's former mayor Georg Riedl.
Bild (DIT): Concentrated expertise at the DigiCamp: the speakers on the topic of "Digital Inspection: Buildings, Structures, Drones & more".