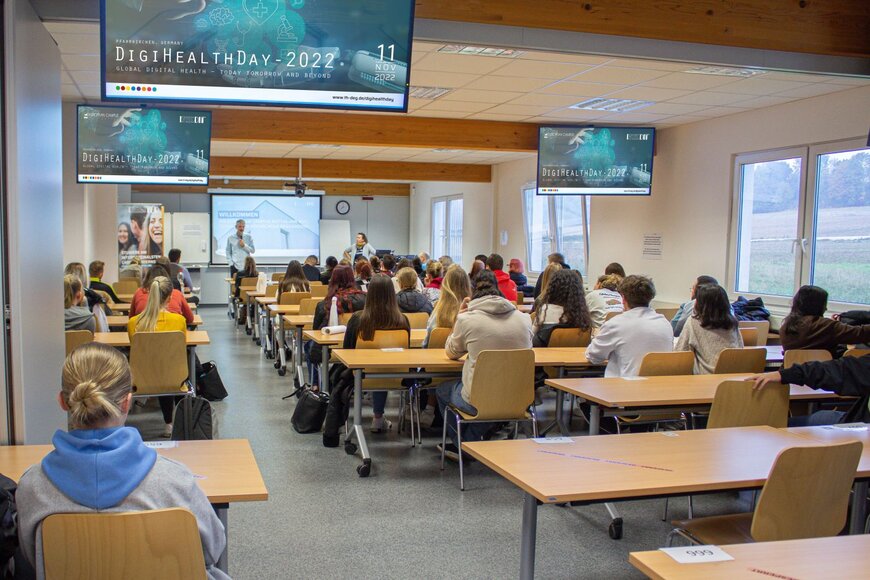 DigiHealthDay-2022 with international experts
DigiHealthDay-2022 with international experts
4.11.2022 | DIT Public Relations
On 11 November, the DigiHealthDay (DHD) will take place for the third time at the European Campus Rottal-Inn (ECRI). The scientific symposium brings together internationally renowned experts, students and the interested public for one day to exchange ideas on the topic of digital health. Registrations for the free event are still possible.
This year, DHD-2022 is all about AI research, ethics and regulation in the field of Digital Health. The individual panels will look at these aspects from different angles. In the morning, keynote speeches will cover topics such as the modelling, development and implementation of transformed health ecosystems, digital health technologies or digital health innovations, including progress, setbacks and prospects. In parallel sessions, participants can then choose between a panel on the European Federation for Medical Informatics (EFMI), the student session or the scientific panel.
After the joint lunch break, the experts will address, among other things, the first WHO regional action plan for digital health in Europe, which will be presented by the WHO European Regional Office, in various keynote presentations. Other presentations will focus on the role of digital transformation in improving the performance of the health system or on health data as the key to future-oriented, data-based care. Finally, speakers from Canada, India, Norway, Austria and Germany will explore the question "DigiHealth-AI Quo Vadis: How to make AI safe, efficient, ethical, explainable and accountable?".
Participation in DHD-2022 is free of charge. It will not only take place on site at ECRI in Pfarrkirchen, but can also be attended virtually via Zoom. To participate on site, simply send an email with the subject "ONSITE" to info.digihealth@th-deg.de. Further information on the event and current updates can be found on the website www.th-deg.de/digihealthday.
DHD-2022 is supported by SHL Telemedicine as Premier Sponsor and iTD as Sponsor. Other partners of the event are the Bavarian State Ministry for Health and Care (StMGP), the Healthcare Information and Management Systems Society (HIMSS), the International Society for Telemedicine & eHealth (ISfTeH), the Consortium of Educational Institutions in Digital Health (CONEDIG), the International Medical Informatics Association (IMIA), the European Federation for Medical Informatics(EFMI), the Deutsche Gesellschaft für Digitale Medizin e. V. (DGDM), the German Society for Telemedicine e.V. (DGTelemed), the Bavarian TelemedAllianz. (BTA), the Armenian Association of Digital Health (AADH), the City of Pfarrkirchen, the Russian-Armenian University (RAU), the People's Friendship University of Russia (RUDN), the National Healthcare University of Ukraine (NHU), DigitalHealthNews. eu (media partner) and Munich Digital Health Summit (partner event).
Bild (DIT / ECRI): At the DHD-2022 symposium, students and locals meet international experts on campus.