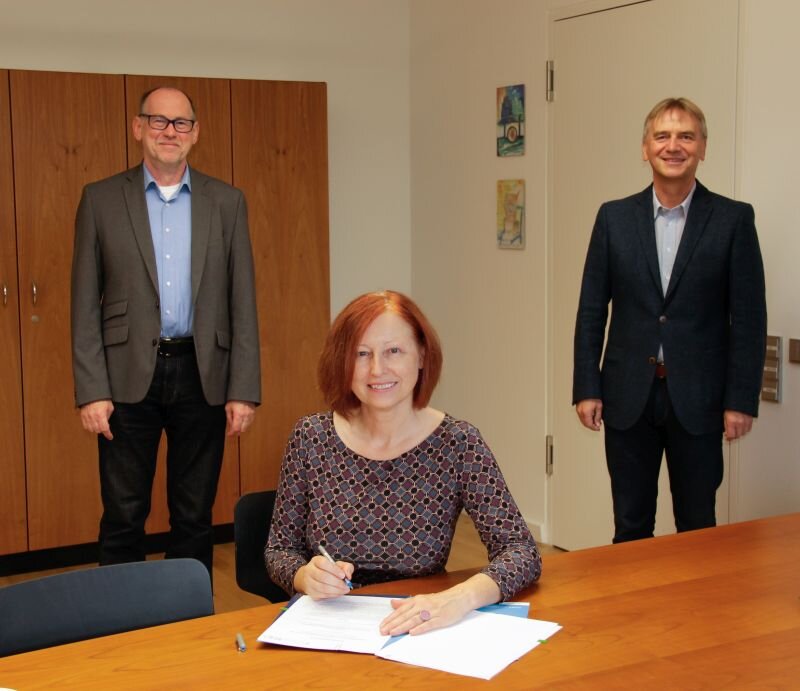 Medical professionals for Lower Bavaria
The university and the Donau-Isar-Klinikum cooperate in training professionals
12.10.2020 | THD-Pressestelle
The Deggendorf Institute of Technology (DIT) and the Donau-Isar Clinic Deggendorf are cooperating to strengthen the academic training of health professions. On 6 October, Dr Inge Wolff, Director of the DONAUISAR Clinic, DIT president Prof Dr Sperber and DIT Vice president Prof Dr Horst Kunhardt signed a framework agreement describing the future cooperation. Above all, the interdisciplinary nature of the various health care professions will be the focus of attention. However, joint research projects will also be continues and new projects initiated.
The DONAUISAR Clinic is already closely linked to the university within the framework of the dual training in the fields of nursing and physiotherapy. In future, the focus of the cooperation will be on the new Bachelor's degree course in Nursing & Care and the two courses of study Management in Health, Social and Rescue Services and Health Informatics. But also sports sciences. Furthermore, the new Bachelor's programme Physician Assistant / Medical Assistant, which is planned to start next year, is already part of the framework agreement. The clinic will take on the function of a teaching institution of DIT. Practical relevance plays an essential role in this cooperative student education. With this cooperation, an important milestone is set in order to actively counteract the shortage of qualified nursing staff and to upgrade the content of these healthcare professions through a meaningful academisation, which is also standard in many other European countries.
Bild (DIT): From left to right DIT president Prof Dr Peter Sperber, Executive board of the Donau-Isar Clinic Dr Inge Wolff and DIT vice president for Health Prof Dr Horst Kunhardt want to intensify the cooperation with a cooperation agreement.