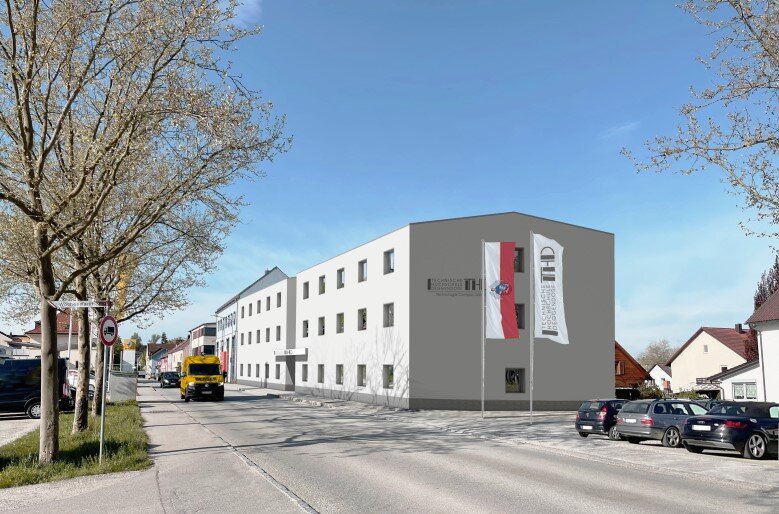 DIT is coming to Vilshofen
A technology transfer centre for digital security is being built at the Vilshofen Technology Campus
14.7.2021 | DIT Public Relations
In 2022, the Technology Campus (TC) Vilshofen will become the 13th building block of the successful model of the Deggendorf Institute of Technology (DIT) to regionalise research. The ProtectIT Institute, previously located at DIT, will find its new home there in the "Technology Transfer Centre for Digital Security". The topics for scientists in Vilshofen: IT security, e.g. in automation technology, critical infrastructures, electronic systems in automobiles and avionics as well as so-called embedded systems. Projects already started will be continued at the new research location.
At regular and even shorter intervals, we hear about strategic hacker attacks in the media. They paralyse universities, hospitals, companies or authorities and take them hostage. The topic of cyber security, i.e. securing IT structures and organisational data, must therefore be at the top of the agenda in the age of digitalisation. "With the Technology Campus in Vilshofen, DIT," says the future scientific director at the TC, Prof Dr Martin Schramm, "is expanding its research in an area that undoubtedly has the highest economic and social relevance." There has also been a bachelor's degree course in cyber security at DIT since the end of 2019.
One example of the future scientific work at TC Vilshofen is SKINET (Proactive Security through Artificial Intelligence in Automotive and Industrial IT Networks). The project is funded by the Federal Ministry of Education and Research and is based on cooperation with various industrial companies as well as other research institutions. The core idea of SKINET is the application of artificial intelligence (AI) to detect cyber threats at an early stage and to be able to initiate suitable countermeasures. Areas of application for the technology are vehicles and industrial production facilities, which are subject to ever-increasing networking. And are thus a potential target for attack by hackers. The improvement of detection and reaction mechanisms makes it possible to significantly optimise the security of networked systems.
Another project is called ASSiST, which is currently in the application phase. ASSiST is intended to support citizens in their private IT security. After all, defence against digital attacks is not only relevant for companies and states. With the increasing use of digital devices and one's own smart home, the risk of becoming a victim of cyberattacks is rising. Many are not directly aware of this risk. The evaluation and identification of certain risk indicators is intended to sustainably improve awareness of safe digital use. Among others, the city of Vilshofen is involved in this research project.
"Cooperation with regional and national partners promotes the transfer of knowledge and technology between research and industry. And we," explains Prof. Schramm, "as a university of applied sciences, have a particular obligation here." Direct cooperation with partners in the region will also take place within the framework of contract research, services and further education programmes. In addition to developing and implementing new research ideas.
Bild (Architects Duscher): This is what the new "Technology Transfer Centre for Digital Security" in Vilshofen will look like.