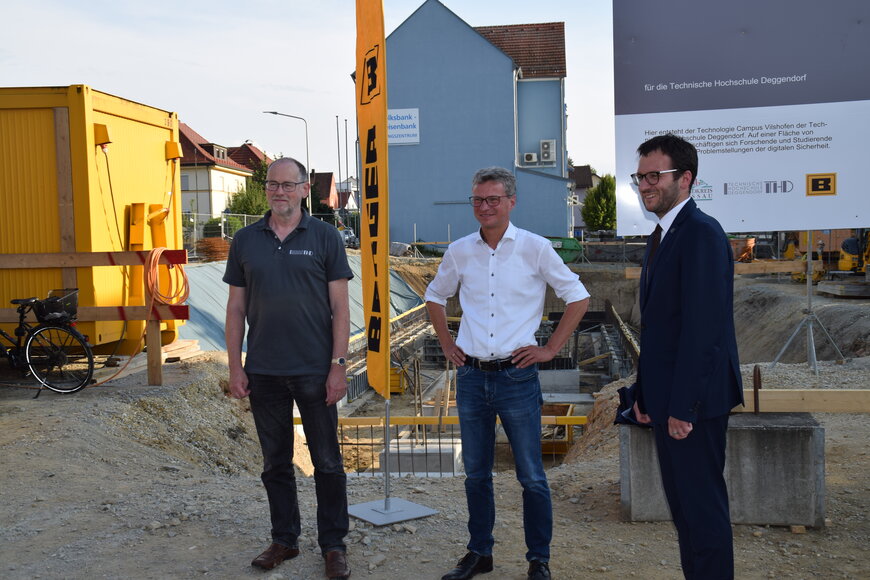 Groundbreaking ceremony
Groundbreaking ceremony for Bavarian Centre for Digital Security
26.7.2021 | Bavarian State Ministry for Science and the Arts
The Deggendorf Institute of Technology is building a new technology transfer centre in Vilshofen: Today, the groundbreaking ceremony for the "Bavarian Centre for Digital Security" (BayZDS) took place with Minister of Science Bernd Sibler. The BayZDS sees itself as a point of contact for companies from all over Bavaria on issues of digital security in the fields of automotive technology, manufacturing technology and mechanical engineering, energy production and distribution, the process engineering industry, intelligent transport systems and medical technology. The focus of the work is on applied research, technology transfer and basic research. Science Minister Bernd Sibler emphasised: "With its focus on digital security, the BayZDS will deal with a highly topical and at the same time timeless subject. Because if we want to use digital technologies reliably, they absolutely have to be secure. With its tenth technology campus, the Deggendorf Institute of Technology is proving that it can not only develop cutting-edge technology, but is also very aware of the responsibility that comes with its use."
The Free State is funding the forward-looking project together with the town of Vilshofen: for example, the Free State is providing the start-up financing of just under 7.3 million euros via the Hightech Agenda Bayern, while the premises will be provided by the town of Vilshofen for the first five years. "We are investing in Vilshofen in one of the focal points for Bavaria as a business location," said Sibler. The technology campus in Vilshofen - and thus the tenth technology transfer centre of the Deggendorf Institute of Technology - is scheduled to go into operation in 2022. To date, the Deggendorf Institute of Technology operates the Technology Campus (TC) Freyung for applied computer science and bionics, the TC Teisnach for optoelectronics and optical manufacturing technology, as well as another TC for industrial sensor technology, the Technology User Centre Spiegelau for processing hot glass, the TC Cham for mechatronics, the Logistics Campus Grafenau, the TC Weissenburg for plastics technology, as well as the TC Parsberg for digital manufacturing together with the OTH Regensburg and the "Modern Mobility" research centre in Plattling. In addition, the Deggendorf Institute of Technology has set up another location in Hutthurm as a branch of the TC Weißenburg. Technology transfer centres of the Bavarian universities of applied sciences are an essential pillar of the successful Bavarian regionalisation strategy. Their research focus is aligned with the regional economic structure. Science and industry work closely together to develop technologies in an application-oriented manner, to facilitate access to them for regional companies and to facilitate contacts with students and thus future, highly qualified specialists.
Bild (DIT): Minister of Science Bernd Sibler: "Highly relevant and at the same time timeless subject" - Tenth Technology Transfer Centre at the university - Free State investment of almost 7.3 million euros.