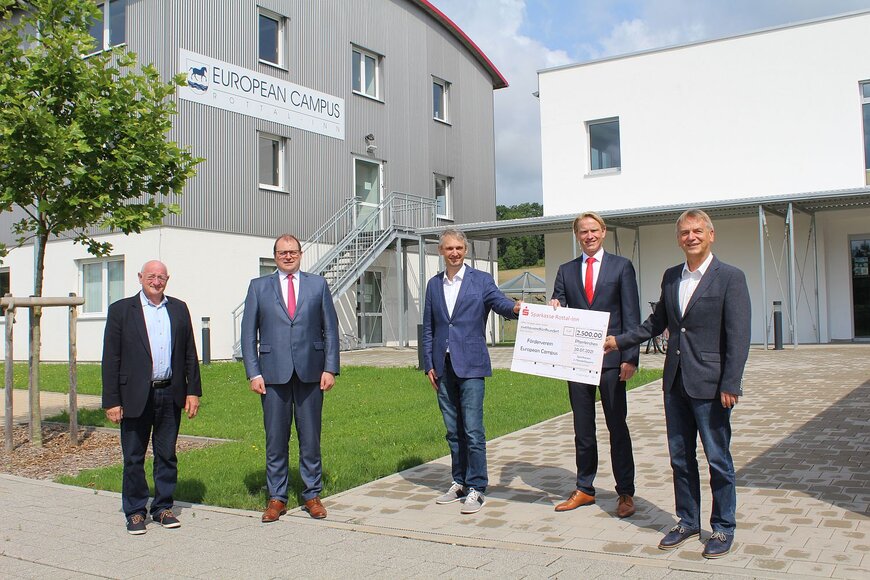 Sponsors delighted about donation
Sparkasse hands over donation to the European Campus
30.7.2021 | DIT Public Relations
On Tuesday, 20 July, the European Campus Rottal-Inn (ECRI) was pleased to receive a donation from the Bezirksverband der niederbayerischen Sparkassen to the ECRI's Support Association. This will enable the campus to support projects and students in an even more targeted way.
Campus Director Prof Dr Horst Kunhardt, together with Dean Prof Dr Georg Christian Steckenbauer and Coordinator Georg Riedl, welcomed the two representatives of the Bezirksverband der niederbayerischen Sparkassen at ECRI. As chairman of the Bezirksverband, District Administrator Michael Fahmüller came to the campus together with the chairman of the Sparkasse Rottal-Inn, Martin Ruhland. In their luggage they brought a donation cheque for € 2,500 for the ECRI support association.
After the welcome, the visitors were given a brief overview of what is happening on campus and an outlook on the coming months at ECRI. At the moment, lectures are still held online or hybrid, but ECRI is trying to quickly switch back to face-to-face teaching despite planning uncertainties. This plan met with great approval from everyone involved. As Ruhland emphasised, ECRI contributes to the local economy and thus to the future of the region with its international campus, for which he is very grateful. Fahmmüller, who as the chairman of the Bezirksverband has particularly supported the donation of € 2,500, once again emphasised the importance of the campus in terms of manpower and cultural life in the region.
The ECRI support association has been active in supporting students in recent months, despite Corona. For example, the association supported the graduation ceremony or helped students who were in distress due to the pandemic.
Bild (ECRI / DIT): Martin Ruhland (2nd from right), Chairman of the Sparkasse Rottal-Inn, presented the cheque at the campus.