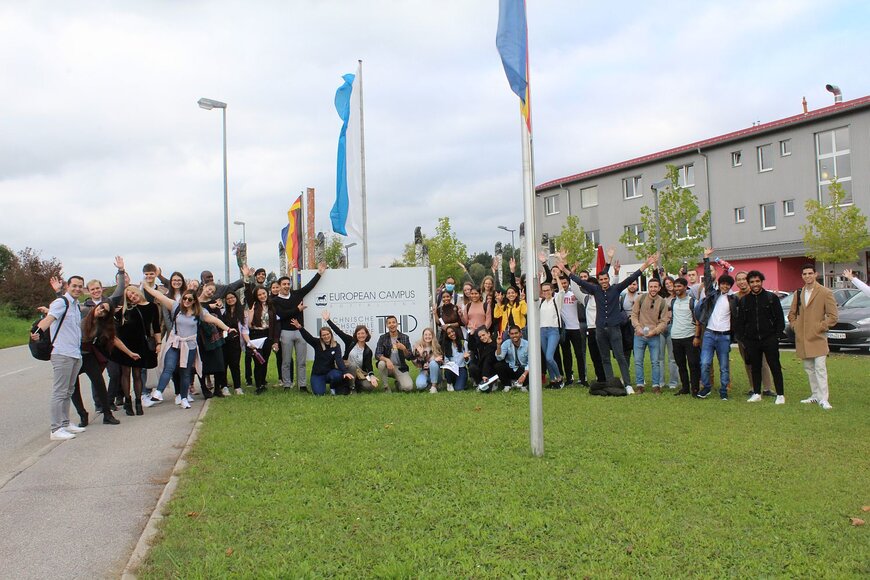 Start of the 2021 semester: life returns to the European Campus at last
Start of the 2021 semester: life returns to the European Campus Rottal-Inn at last
5.10.2021 | DIT Public Relations
After three semesters of distance learning, the start of the winter semester 2021/22 on Monday, 4 October was a welcome occasion for the students of the European Campus Rottal-Inn (ECRI) to come back to campus. A comprehensive programme was offered on site for the students present, while everyone else was able to attend the opening of the semester via live stream.
About 40 students came to be welcomed by Campus Director Prof. Dr. Horst Kunhardt and Dean Prof. Dr. Georg Christian Steckenbauer. The rest were connected online. Afterwards, the service facilities of the university were presented, the organisation of the courses was explained and the students were given techniques for self-management during their studies. Finally, the student association RESP e.V. took the attendees on a tour of the campus and showed them the labs, refectory, library and all the stations at ECRI that are relevant for the students.
In the afternoon, the students had the opportunity to exchange ideas with the heads of the degree programmes and to clarify important questions about the respective degree programmes at the World Café. At the end of the day, the students were invited to a small Welcome Back Party in front of the campus building. With music and free drinks, they had the opportunity to get to know their fellow students in a relaxed atmosphere and to exchange ideas before the start of lectures.
The International Office of the university had already made all the arrangements in advance to make the arrival in Germany and the start of the semester as pleasant as possible for the international students. For example, they receive intensive support in finding accommodation or with administrative tasks such as dealing with the authorities. For international students who first have to go into quarantine after arriving in Pfarrkirchen, there is a shopping service offered by the International Office. To support students, there are also international tutors who answer questions, help students and also organise events. Just in time for the start of the semester, they organised a get-together on Tuesday, 5 October to get to know each other. For students who have not yet made it to ECRI, this was also offered virtually.
In total, over 330 new students started their studies at ECRI at the start of the winter semester 2021/22. This brings the campus to over 1,050 students.
Bild (ECRI / DIT): The first-year students were happy about the start of the winter semester at the Pfarrkirchen campus.