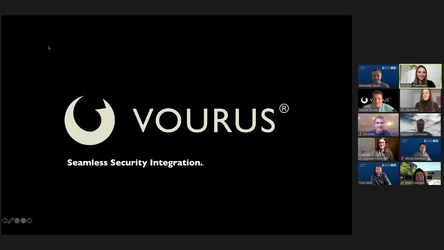 Start-up Vourus
Secure software - DIT start-up protects sensitive data
19.2.2021 | THD-Pressestelle
New start-ups from the ranks of the Deggendorf Institute of Technology (DIT) are not long in coming: the university is currently supporting the start-up "Vourus". A company that wants to gain a foothold in the field of IT security. In particular, companies that process sensitive data can benefit from the start-up's services.
The founders behind Vourus are Nicolai Roider and Sebastian Schreiner. Already as teenagers, they worked together on various projects in the technical field. Very quickly, they recognised the increasing relevance of data security and decided to set up a company together. Nicolai Roider studied business administration in the commercial area and Sebastian Schreiner is an IT specialist for application development in the technical area. At DIT they have the chance to put their plan into practice with a start-up scholarship. They are supported by the DIT Start-Up Campus, the Hans Lindner Foundation and Prof Dr Thomas Geiß as mentor.
The idea of the Vourus founders is to make the exchange and transfer of data more secure. To this end, they have developed an encryption system that is intended to offer the highest possible security. It ensures that only authorised people can access sensitive data. It immediately recognises whether files are in their original state or have been changed after being sent. Another advantage over conventional systems is that users can be deprived of decryption rights afterwards. The young founders have already concluded the first partner contracts with software manufacturers. The start-up is therefore planning to expand its resources, especially by adding staff in the areas of development and sales.
Bild (DIT): Video conference of the Vourus team with all supporters around the DIT Start-Up Campus.