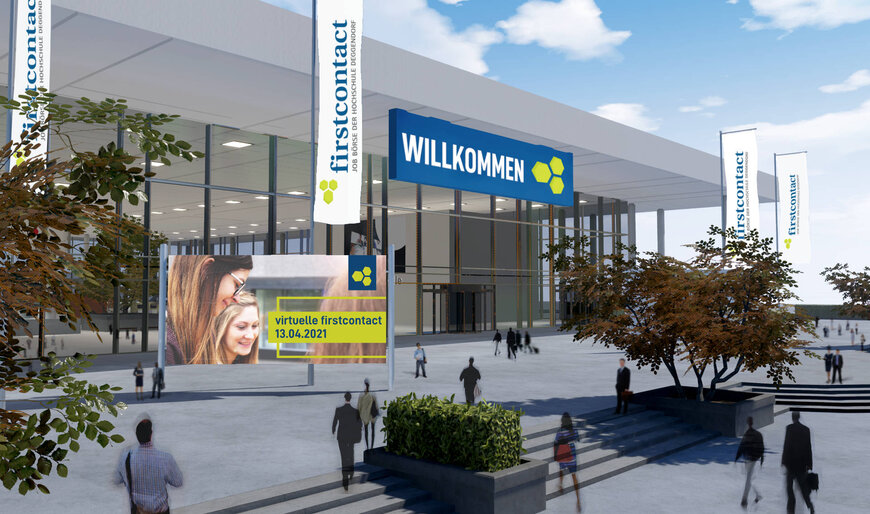 firstcontact fair online on 13 April
Take advantage of career opportunities from home - firstcontact job fair to be held virtually for the first time on 13 April
31.3.2021 | THD-Pressestelle
On 13 April, pupils, students and job seekers can make contact with companies at firstcontact, one of the largest and most successful company contact fairs in Lower Bavaria. The fair will be held virtually from 10 am to 3 pm, allowing visitors to participate from the comfort of their own homes.
Although the firstcontact has to move from the Deggendorf Stadthallen to an online platform, it will once again offer visitors countless and unique career opportunities. A total of 110 companies are on board and present themselves to the virtual visitors in the usual professional environment. The new format also offers new opportunities: With a get-to-know-you app, participants can already get to know the exhibitors before the actual fair. Another new feature is that exhibitors and visitors can get in touch in advance and arrange to meet on the day of the fair.
The firstcontact is particularly aimed at students who are looking for jobs for an internship or their bachelor's or master's thesis, as well as all prospective graduates. However, school pupils and job seekers are also cordially invited to firstcontact on 13 April. Information on how to participate can be found at: https://www.firstcontact-deggendorf.de/.
The fair is organised by the student association First Contact e.V. in cooperation with the Career Service of the Deggendorf Institute of Technology (DIT). The firstcontact takes place annually in spring and regularly attracts almost 200 companies and about 2,000 visitors to Deggendorf.
Bild (DIT): The first virtual trade fair firstcontact is in no way inferior to the original in the Deggendorf Stadthallen.