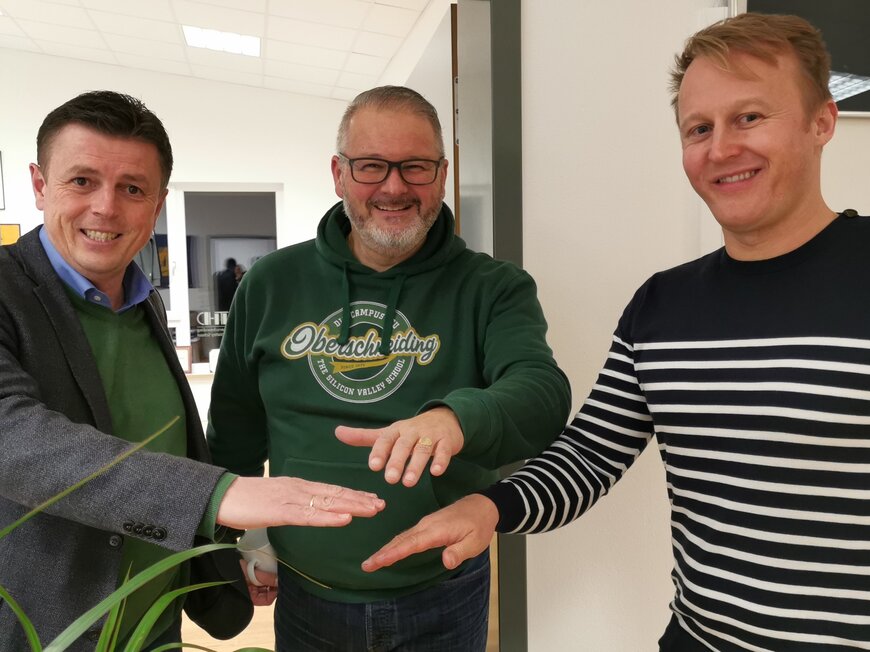 New professor
New professor at DIT Campus BITZ
26.1.2022 | BITZ
On Thursday 20 January 2022, DIT president, Prof. Dr. Peter Sperber, officially appointed Dr. Tobias Strobl professor for the field "Methodology of Scale" at the Bavarian Innovation and Transformation Centre (BITZ) Oberschneiding.
Professor Dr. Tobias Strobl currently lives in Las Vegas, he works and gives lectures in the Silicon Valley.
He is mentor and "accelerator" for German Entrepreneurship and looks forward to working at the DIT campus in Oberschneiding.
"It was beyond all question to apply for this position at DIT. I have known the Silicon Valley Program and the work of the teams for years. International rankings evidence the high quality of the program. That is why I am looking forward very much to actively participate in shaping the campus." Tobias Strobl was born in Hilpoltstein and studied aerospace technology at the Technical University of Munich. After his studies, he worked as R & D engineer for Airbus Group Innovations in Munich. He earned his PhD in the field of aerospace technology at the Technical University of Munich.
Strobl invented several internationally approved patents for fully electric aircraft technology. He continued his career as management consultant for 3DSE Management Consultants GmbH, where he was involved in international projects in the fields aerospace & defense, automotive and transportation. He gained further international experience in start-up and company management at Business Models Inc in San Francisco.
Tobias Strobl is co-founder of the company ARIAx. He successfully consults start-ups in the company founding stage, during development and scaling in international markets. Moreover, Strobl is leading mentor in support programs for young German entrepreneurs founded by the Federal Ministry of Economy and Energy, such as the German Accelerator Silicon Valley. He also works as lecturer and strategic consultant at INSEEC Business School.
The mayor of Oberschneiding, Ewald Seifert, warmly welcomed Tobias Strobl: Welcoming such a renowned scientist and highly-experienced mentor is an excellent confirmation of our common work". The scientific director and founder of the Silicon Valley School, Professor Peter Schmieder, is looking forward to the collaboration with his new colleague and to the new academic partnerships with Berkeley SkyDeck, University of Berkeley and the Design School of Stanford University. Peter Schmieder added, winking: "It's a very good beginning. But this is only the beginning".
Bild (BITZ): Oberschneiding's mayor Ewald Seifert welcomes the new professor at the BITZ together with Prof. Peter Schmieder, Dr Tobias Strobl