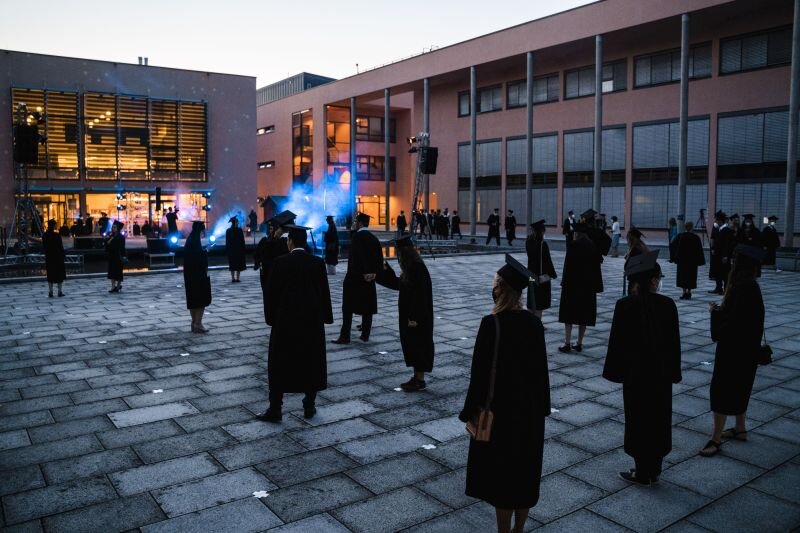 Graduation ceremony 2021
Open air and with illumination of the campus: graduates celebrate their graduation.
2.8.2021 | DIT Public Relations
Finally another celebration on campus. Last weekend, the graduates of the Deggendorf Institute of Technology (DIT) said goodbye to their university. As you would expect, ceremonially with gown and hat. But outside, with distance and hygiene concept.
But the event was no less festive for that. Spread over three days, students who graduated between March 2020 and March 2021 could have the campus all to themselves. With a DJ, bars and food, seating and a special illumination, the campus was prepared especially for them. But first there was the presentation of the certificates, speeches and the honouring of a total of nine graduates for their theses. Everything was done virtually and in the presence of friends and family who could join in via stream. The most beautiful moment, the hat toss, then followed open air. A total of 450 graduates said goodbye. For the first time, students of the degree programmes in Business Psychology and Nursing Dual were also present. The graduation ceremony was planned and designed by the DIT Alumni Department in cooperation with the Master's students in Media Technology and Production. Their motto: "Glow up with us!"
Bild (DIT): The moment before the hat toss. At the weekend, DIT graduates celebrated their graduation.