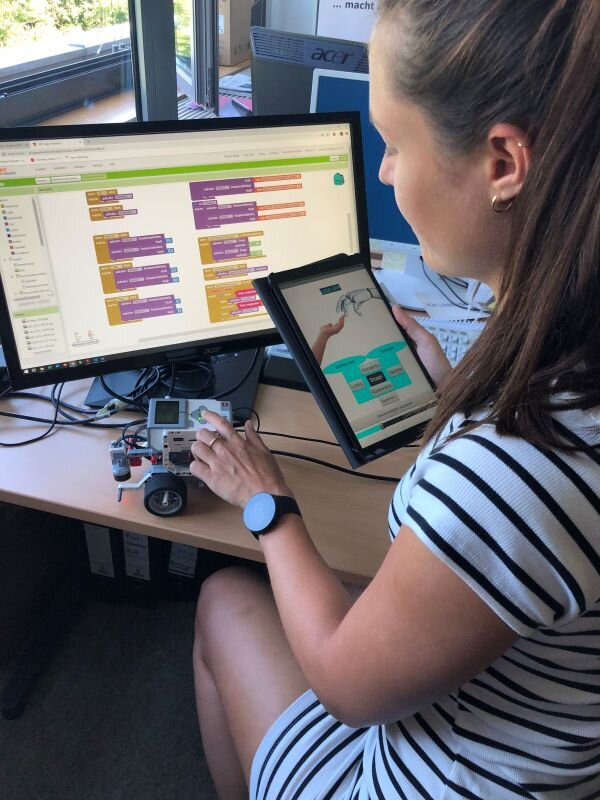 Computer science workshop continues
Over 1,000 participants - Digimania+ at DIT enthused about IT
26.8.2021 | DIT Public Relations
Over 1,000 pupils at 21 Lower Bavarian schools took part in Digimania+ over the past two years. The computer science workshop at the Deggendorf Institute of Technology (DIT) received significant funding of almost 300,000 euros from the European Social Fund (ESF). Digimania+ is now presented as a success story on the ESF website. The funding will end in September, but the DIT will continue to offer computer science programmes for schools.
The Digimania+ computer science workshop was a complete success, as those responsible around Andrea Stelzl, head of the MINT team at DIT, are aware. Even at the beginning, the demand from schools was very high, the need could hardly be met, Anna Kaiser remembers. The project manager is particularly proud that over half of the participants were female. 18 DIT students from a wide range of disciplines worked on the project. They were able to acquire valuable basic pedagogical and didactic knowledge. Digimania+ consisted of three modules that were offered to entire classes from the eighth grade onwards. Besides practical programming, media didactics was also on the curriculum. The programme will not disappear in the drawers, the people in charge are sure of that. Rather, the individual elements will be incorporated into DIT's diverse range of offers for schools. "The high demand for our computer science workshop proves the role this component plays in our regional educational landscape," Anna Kaiser affirms. In addition, thanks to Corona, many new learning methods and competences have been acquired, courses have been digitalised and made sustainably available via platforms. They also want to pass on this expanded knowledge, whether virtually or in person.
Bild (DIT): The Deggendorf Institute of Technology offers various computer science courses for schools.