Florian Friedrich
2008 | Diplom Business Administration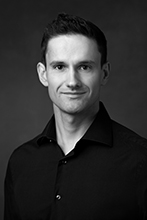 Career Development
After my graduation (Dipl. BWL) in 2008, I began my professional career as a management consultant. During this time, I quickly realised that I didn't want to give up university life just yet and continued to get involved with lecturing and teaching at various universities. I also participated in the Executive MBA programme at DIT with the Ingolstadt University of Applied Sciences during this time.
I was able to gain consulting experience in the automotive and manufacturing industries as well as in the financial industry. The latter led me to choose this as my next career step and I have now been working in various roles at Allianz Global Investors since 2013. In my current role, I am responsible for the complete project portfolio worldwide from early origination to completion of projects. I have also been a lecturer at the International School of Management for several years in the Bachelor's and Master's degree programmes in Leadership & Motivation, Consulting and Project Management.
Reminiscing allowed: remember your student days
I have very fond memories of my time in Deggendorf. Not only the experience in the smaller study groups (I was previously at the University of Passau) but also the successes with the DIT football team were formative times. I'm still convinced today that the time spent studying is a time that you should enjoy, because it's also a time when attitudes and values are established that you can draw on and benefit from for a long time. Certainly, I could have invested more in building up a "business" network at that time - honestly, I wasn't aware of the benefits or important enough at the time. That's why even today I still recommend to all students in my courses to use the time to build up their network - you never know when you'll need a contact.
What advice would you give to today's students?
Focus on the things you really enjoy. Focus on your strengths and build on them - these will make the difference at some point.