Cinderella Dietl
Mechatronics (Dual)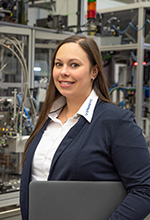 Cinderella Dietl recommends students to stick together and knows from her own experience that professors are always happy to help.
Career Development
Up to my current position as project manager it was not the shortest way.
After graduating from secondary school (technical field) I first learned the profession as an administrative assistant. Since I did not see myself in this field for the rest of my life, I decided to catch up on my general school certificate at the vocational high school in Deggendorf. Through my brother Markus I got some insights into the dual study of electrical engineering and decided to study mechatronics at Strama-MPS Maschinenbau GmbH & Co. KG, combined with a vocational training as a mechatronics engineer.
Strama-MPS develops special machines for the production, assembly and testing of complex technical components and products. Altogether, more than 1,300 specialists work at Strama-MPS worldwide - about 750 of them at the Straubing location.
My current position in the company requires me to be able to react quickly to acutely arising issues. Therefore I need a good overview of the whole project and am responsible for cost planning, customer meetings and site planning. In the end, a complete production line with various assemblies is created. The line is completed down to the last detail and put through its paces so that it can be reassembled and put into operation at the customer's site.
Reminiscing allowed: remember your student days
I would always decide again for a dual study at the TH Deggendorf, because you can deepen the acquired knowledge besides the theoretical training at the same time in practice. Apart from the good leisure activities in Deggendorf, I also like to think back to DIT's Christmas party. With good food and atmospheric music one could enjoy a nice evening with friends. I would also like to emphasize the good cooperation among the students. This was also encouraged and challenged by the professors themselves through various topics that were worked on in teamwork. This includes the two compulsory projects during the studies - and the related excursions to the Czech Republic.
What advice would you give to today's students?
I would advise students to stick together. This will pay off well at the latest when working out the learning material before the exams. First of all by saving a certain amount of time and secondly by having one or more partners who may also have an answer to one or the other question. For the remaining open topics I can only say from my experience that the professors of DIT have an open ear and are happy to help.