Victoria Paster
2018 | Media Technology and Production with focus on industrial Multimedia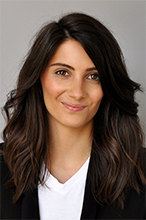 Victoria Paster reports about her master studies at DIT and recommends students to use the study to try different things.
Career Development
In autumn 2018 I finished my master in Media Technology at DIT. I wrote my thesis about search engine optimization for JavaScript based websites at the online agency Diva-e in Munich. Afterwards I spent some months in Southeast Asia, India and Nepal before I returned to Munich and the agency in autumn 2019.
In my spare time I am also working with a team on a homework app. We designed it as part of the German government's hackathon #wirVsVirusHack. It is supposed to provide a quick and easy remedy against the homework chaos in times of corona and homeschooling.
Reminiscing allowed: remember your student days
I like thinking back to my days at DIT. I especially liked the fact that I could try out many things there. Whether in the courses, the optional subjects or in my part-time job in the MINT team. Due to the small course sizes and the strong support of my fellow students, professors and university staff, I was able to settle in quickly and learn a lot of new things. The fact that I had previously completed my Bachelor's degree at another university - the FH Upper Austria - was no problem. Although my degree there did not fulfil the necessary ECTS number for the Master, I was able to make up for the missing credits easily with an internship and the required PLVs.
What advice would you give to today's students?
Use your studies to try out lots of different things and stay curious!
Feel free to contact me via Xing if you have any further questions.