Michael Bauer
2005 | Electrical Engineering and Information Technology with focus on Automation Engineering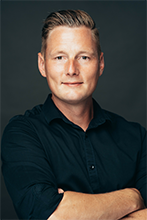 Michael Bauer: "To this day I still meet with former fellow students in my professional environment."
Career Development
In the summer of 2005 I completed my studies in the field of electrical engineering and information technology with the focus on automation technology as the last graduating class as Dipl.-Ing.(FH) at the University of Applied Sciences in Deggendorf. Before starting my professional life, I travelled through New Zealand and Australia from October to February 2006, before I started working as a test field engineer for small and large engines at the Loher motor factory in Ruhstorf.
During my two years of work I was able to build up my specialist knowledge of motors with/without explosion protection (Ex d, Ex i, Ex e) and generators, which was very helpful when I joined Finergy AG, based in Voerde/NRW, as "Sales and Service Engineer" for wind power generators and converters. In September 2011 I changed to Siemens AG and was responsible as "Quality Manager in Project" for preventive and operative quality planning and assurance in transnational projects for generators for the entire product life cycle. Due to the job requirements at both, Flender AG and Siemens AG, I had to make many business trips in Europe and China to get to know the country and its people directly on site.
In May 2017 I changed to the engineering office IB Graf for electrotechnical building equipment in Pfarrkirchen, which I took over one year later as owner with the current company name IB Bauer+Graf. The field of activity covers a wide range of tasks in the most diverse sub-trade from industrial buildings to the planning of villas for high voltage/low voltage applications and lighting design, taking into account the installation depth and safety-relevant equipment required by the client.
Reminiscing allowed: remember your student days
I have fond memories of my studies: learning and living in Deggendorf corresponded to my ideas and was very structured during my eight semesters, based on the lecture plan. I had a certain classmateship with my fellow students, and the professors were always interested in communicating knowledge in a comprehensible way and responding directly to questions during the lecture. The lecture style and the experiments in the laboratories also reminded me to a large extent of my school days and the documents provided for the lecture were very well prepared.
To this day I still meet former fellow students in my professional environment.
What advice would you give to today's students?
My time at Siemens and my planning office has always shown me and continues to show me new development opportunities to advance professionally and personally. I always accepted these opportunities and thus followed a certain road map that life and the professional world offered me. During my studies, the professors also taught me that constant learning in a professional environment, including language skills in English, awaits graduates and is indispensable. I can underline this statement as fully correct. The studies in Deggendorf enabled me to pursue my career so far and were a very good decision on my path in life.